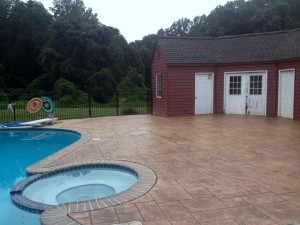 In the summer, there's probably no place you'd rather be than by the pool. That's why the area immediately surrounding the pool is so important. You want a deck or patio that is stylish, comfortable, and easy to maintain. Only one deck material offers you all of this in one, affordable package: decorative concrete.
Below are just some of the ways that decorative concrete surpasses others as the best choice of pool deck material:
1. Affordable
Concrete is a great option when you want a luxurious pool deck at only a portion of the typical cost. As a building material, concrete is much cheaper than wood, stone, or slate. However, decorative concrete can mimic the appearances of the common deck materials. It really is the best of both worlds.
2. Durable
Concrete is one of the most durable surfaces out there. It will withstand much more than wood or even stone and will never rust, rot, splinter, or burn.
3. Customizable
Our decorative concrete can be customized to look like any surface or texture. It can also be painted, stained, or stamped into a pattern. We can create virtually any look you desire.
4. Simple Maintenance
Occasional cleaning with a mild detergent is the only regular maintenance required for a decorative concrete pool deck. It's also recommended that the concrete is resealed every few years to prevent fading.
Decorative concrete pool decks are becoming a popular choice for pool owners, and it's easy to see why. Call us today to get started on your design 610-505-2065.