Are you looking to design a new patio but not sure where to start? At DiFelice Stamped Concrete, we specialize in designing stamped concrete patios that are durable and affordable. While a wood deck or stone patio may look great, they are usually pretty costly and may not withstand environmental forces.
With stamped concrete patios, we can design a surface that looks just like any other material, including wood, slate, stone, and brick. We can also adjust the color and texture to meet your patio preferences. Stamped concrete is becoming a popular option for all kinds of surfaces, especially for patios.
Take a look at some of our concrete patio designs.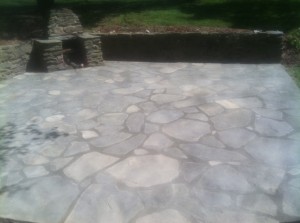 Call 610-505-2065 to get a free estimate on your stamped concrete patio project.